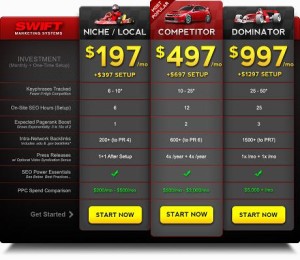 After designing and uploading your website you are onto the next step. How to get business from internet. The choice is two.
One is either use your website to get business.
Keep your website like a white elephant and when some body asks you can proudly tell and show that you have a website for business. And you can show to your websites to you relatives and friends.
If you want to do the first option, that use the website for making more business just like any other business investment then you have to do search engine optimization. So you may have to hire one search engine optimization specialist for your work. You will get some ideas about seo packages below
Tip: In India anybody passed some computer course and ever came to know that there is something called search engine optimization will introduce himself as a SEO specialist and will be selling SEO Packs to you. If you buy one from them, soon you may have to hire another person to clean the mess he created for you
image:http://swiftmarketing.com/seo-packages
You have to allocate a monthly budget for search engine optimization. It should be optimistic and should be balanced with your revenue. And you have to make sure that your competitors are not coming in front of you in popular search engines. Data says 40% of traffic is for the first position and the 9th position gets only 1 or 2%. Which means that the 9th person gets only  20 times lesser business than the first position. When you are thinking about it your web designer may come up to the idea of buying a SEO package. Well good. But If you do not do properly you may end up in a deep well from there you can not come up. That well is known as getting removed from Google index and you may have to submit a reconsideration request. I will explain you the guide lines and point to be taken carr while buying a seo package
Suggested for you :How to improve search engine Rank

SEO service packages
Please note that I will never buy a seo package if I have to do the search engine optimization of a website. Most of the seo package available at the market is against the Google quality guide line.
Most of the people think that SEO is directory submission, article submission,social link building. They will write an article which is called a keyword optimized article, in which they will be repeating one keyword in every 20 words (some times in bold), and tell you that they have written a correct keyword optimized article with 5% keyword density. Imagine you have asked some body to write an article about your national flag and He is submitting an article with repeating your national flag every time in 20 words, what you will feel.
Second thing they will be submitting the articles to well known article directories like ezinearticles.com. To pass the PR vote you must have a referral links in your article. Not resource link. That is what google say is organic link, where a writer or blogger adds a reference links to add value to his writing or give reference to his readers so that readers can clarify that word in detail. But ezinearticles will not allow you to add any link on article body, and more over they will add a do follow resource link to your website. But adding a resource link with do follow link is breaking Google quality guide lines. In fact you can add no follow links in resource box to invite readers to your website.
So if you look closely whoever submitting an article to ezinearticles or article directories, they are breaking the rules.
Not only that most these seo packs proclaim that they will submit same article to multiple article directories which will  invite web spam penalty. And they will tell you 100 social networking sites which you may not heard at any time.
So if you do not select a proper SEO package then you will be doing more harm to your website than good. And you will end up submitting endless reconsideration requests to google and the seo package people will soon disappear from you because they are in the hunt for new victims by biding up to $15.00 per click in paid search words
Best Seo Package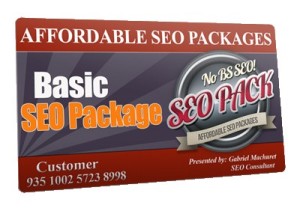 So I am here by outlining some points which will give some idea about the quality of SEO packages and what has to be there and what all has to be avoided
Make sure your SEO package does not contains article submissions to known free article submission sites like ezinearticles.com, articlesbase.com etc etc. Because 99% of articles are sponsored article or writers written for them self to show to their customers. More over they never pass PR vote to you and adding a do follow link is against google quality guide line. They only pass sponsored article penalty to you. So stay away from them.
Make sure your SEO package contains quality articles that will be accepted to revenue sharing websites like squidoo, snydle, hubpages, blogspot and well know websites like wordpress, blog, tumbir etc etc.
Article should not be keyword stuffed. It should be natural article. But It should be key word or key phrase optimized with targeted keyword. Means the subject of the article should be your keyword. And ask your SEO man that nowhere he should mention your website in resource links. He should only add a link to your website as a reference and should add links to similar websites also
Never submit same article to multiple sites. You are inviting Webspam penalty. And none of the revenue sharing website will not accept duplicate  content.
Make sure they are not including 100's spam social network links. All these social networks are set up only for link building
Your SEO company or web designer should be capable of onsite SEO. like writing codes to wordpress theme so that different description comes on each page.
image: seopack.com.au
Affordable seo packages, cheap seo packages
There are lot of affordable seo packages are available on the internet. But make sure that they are know what they do. In India you can get 1000's of seo experts who just heard about SEO. He will introduce himself as best SEO man you can hire.
Just ask him what he is going to do and show some sample articles he has posted. If he replies that he is going to submit to ezinearticles and his sample posts/articles is keyword stuffed then you can understand he is another so called SEO expert who does not have a clue about it.
But there are lot of good SEO experts are there who knows what are they doing. There are some people who is really affordable to and good.
Local Seo Packages
If you can find a local person that is always best. Because they are always available and can better interact with your web designer and with you.