An earthquake with the magnitude of 7.2 shocked people in Bohol and Cebu, Philippines on Tuesday Morning October 15, 2013, leaving at least 20 deaths as of 12:00 noon, according to National Disaster Risk Reduction & Management Council (NDRRMC).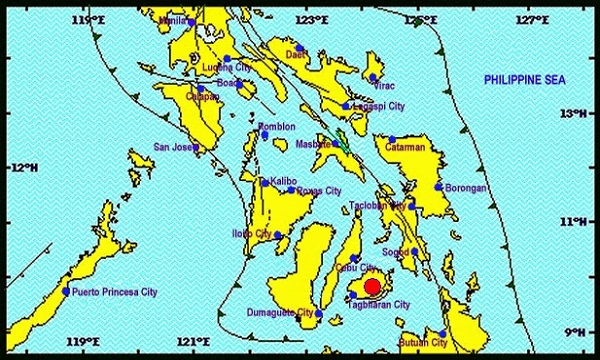 According to Philippine Institute of Volcanology and Seismology or Phivolcs, the earthquake hit at 8:12 AM on Tuesday morning with the depth focus of 33 kilometer. The epicenter of the quake was about 2km southeast Carmen, Bohol.
The intensity of the earthquake was felt in different parts of the regions. People from homes, establishments and office rushed out. Churches and other government structures in Cebu and Bohol collapsed and were shattered.
This earthquake, which was recorded as strongest quake in this year, was felt at the different intensities:
Intensity VII – Tagbilaran, Bohol;
Intensity VI – Inigaran, Negros Occidental;
Intensity V- Iloilo City; La Carlota;
Intensity IV – Masbate City; Roxas City; San Jose, Culasi, Antique; Guihulngan, Negros Oriental and
Intensity III – Davao City
Earthquake 7.2 Cebu and Bohol Photos
Social media sites like Twitter, Facebook and Instrgram has been flooded with the reports and photos about the recent disaster happened in Bohol and Cebu. Here are some of the images of the damages left begind by the strong 7.2-magnitude Earthquake