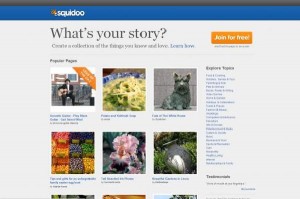 Squidoo accepts articles from writers and share revenue with writers. In the past lot of people abused their platform, and now they are more strict and funny. They share 50%t of the revenue in a non fairway :). Their methods and policy makes this site not good for writers, if they want to make money by writing.
Hubpages is far better, in terms of revenue share (67% vs 50% of squidoo). Their method of revenue share is far better than squidoo, as they show your adsense 2  times and their ads at one time (2:1).  You will also enjoy high quality neighborhood, as Hubpages have better quality articles. Hub page also have a fair and common sense policy for article moderation.
Note: If you are looking to make serious money then I recommend hubpages.
Squidoo highlights
1. 50% revenue share: They take 50% of total adsense revenue and share the other half with writers in a funny way. You may be eligible for 1000 US dollar in a month,  as your article may have bought one million visitors in that particular month. But wait!!! they will give you maxim only 10 or 50 usd (tier one payment).
2. Holiday articles: They will send you lot requests and emails asking for special lens for Halloween, Christmas etc etc. For example your Christmas article (They call it as lens) may be number one in google, for a high sought key phrase for Christmas, and you might have made 100's of dollar from amazon sale from christmas items and gifts. But no use, as the Christmas traffic fades, your lens rank will will go higher and higher, and by May or june, they will throw your lens out of google index, by automatically adding noindex tag in the header. You can see your competitor sitting there and happily sweeping the backlinks from the bloggers and social media bookmarking and getting more stronger by next Christmas.
3. Nofollow Comedy: Google says add nofollow attribute when you are buying a link or just adding a link yourself, where you know that lot of traffic is there and you can get lot of traffic. Google is asking to add the nofollow attribute to omit those links while calculating page rank. (as a rule, any forum links, links from your own articles to bring traffic to your websites should have nofollow attribute as it is not an organic link.   Squidoo will delete any lense, if they found there are lot of nofollw backlinks to your lense(so funny and stupid).
Ok I will come to detail
Squidoo Positives
Revenue share: They pay 50% of revenue share and looks like they are honest in that. 50% revenue share is really reasonable and is a good amount
Easy to write system: Their system is very user friendly and publishing is fun with their system
Squidoo Negatives
squidoo earnings: In my view they never took any real effort to make a logical way to share their revenue among writers. They will take their 50% of money and remaining 50% they share it in a 3 tier basis. First tier lenses get one amount (may be from 10 to 50 usd), 2nd tier gets another amount and 3rd tier gets much less (In cents some time).
In my view this is as if they take their part properly and just throw the other 50% to the street. Why? Just imagine your article had 1 million page views in that month and we know that one million page views can earn around 1500 to 10 000 doller. But you will get only 10 usd out of it. Remaining money will be shared with other lens masters who is not eligible for that much. 1st lens and 1000th lense gets same money!!!. What a joke??. As a SEO guy I know that even 1st and 10th position in google got big big difference. 
Not only that they will pay revenue upt0 80 000 lenses. All the other lenses and their lensmasters are ignored. What about you have a 100 lenses that each made 20 cents/month?? You are not eligible for any money. They will take that money and distribute that with the lenses that have less than 80 000 rank.
Squidoo lens for Holidays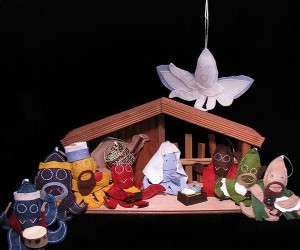 They will be sending lot of requests and funny messages to you to write for upcoming festival. What for??. Yes it is a useless to write for upcoming festival for squidoo. Why??.
They have a funny system in place that will automatically add no-index tag to all lenses that fall below a certain rank (say 400 000 now). So even if your lens is number one for a high premium low volume christmas keyphrase, your lens is not going to have any traffic from february to november. (Even a street dog knows that no body will search for "Christmas gift for girlfriend" on these month. But squid's great great SEO's do not know this. They will promptly add no-index tag to your lens (remember you are number one in google for that keyword), and you will see that google de index your page and your competitor sitting there. Thus by next christmas his popularity will increase and your will stay at back door.
Flawed Lens Ranking System
Their programmers just forgot that while ranking something you have to take full data for that period, For example you have a lense about some special subject and due to some event it has bought around 1 million page views on 15th of a month. Most probabaly your lense will be number one for that day. Naturally your lense has bought around 2000usd minimum to squidoo. But at the end of the month when they calculate the average page rank your rank may be 30000 or 40000 and you may get only 2 or 3 usd.
The same flawed system work for yearly page rank that decides to add no-index tag to lenses. Almost all of your christmas, easter, halloween, diwali lenses at the risk of loosing their position in google due to this squidoo ranking system. it can be avoided if they take monthly page views for monthly rank and yearly pageviews for yearly rank this can be solved
No index tag:
They will add no index tag for any lense that falls below 400 000. I did not understand who thought that there could be only 400 000 good articles??. There are billions of search keywords and more and more opportunities. So unfortunately if there is 400 000 good better articles, than your article at given time, you are out and no index tag is added.May be your article is number one for a given keyphrase in google and you are expecting some big sale for that festival.. Imagin wikipedia adds noindex tag on their christmas article when the christmas traffic fades. So squidoo's system is so useless and idiotic
Attack on nofollow links:
After google's update they decided nofollow links are their enemy. (actually nofollow links are muted by google and no webmaster need not worry about it). You have to worry about dofollow links from content farms like ezinearticles.com and articlesbase.com. You can see 100's of ezinearticle links to squidoo, that is violating google quality and link guid lines. Please read google guid line below
Buying or selling links that pass PageRank. This includes exchanging money for links, or posts that contain links; exchanging goods or services for links; or sending someone a "free" product in exchange for them writing about it and including a link
Excessive link exchanges ("Link to me and I'll link to you") or partner pages exclusively for the sake of cross-linking
Large-scale article marketing or guest posting campaigns with keyword-rich anchor text links
Using automated programs or services to create links to your site
Additionally, creating links that weren't editorially placed or vouched for by the site's owner on a page, otherwise known as unnatural links, can be considered a violation of our guidelines.
Source:https://support.google.com/webmasters/answer/66356?hl=en
In the above article google clearly explains, what is nofollow links and how it has been handled. No webmaster ever need to worry about nofollow links as google no even looking at it.
Another thing is that they add nofollow link to all outgoing links, and the delete any lens if they get any nofollow links. What is the ethic of it?
With all these I think squidoo is not a great platform like hubpages. So I give more priority to hubpages.
Regards