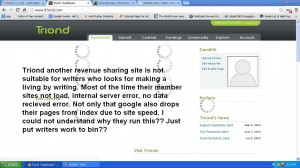 Triond is another revenue sharing site, that is not suitable for writers who look for making serious money. Most of the time their member sites will not load, (shows only internal server error, no data received error). May be if you visit 20 or 30 pages of triond sites, you will be able to write another article about web-server errors, as each of their page will show different errors. (like internal server error, no data received, 404 error-Page not found)
Only one of five articles I have published, is indexed by Google. I think it is because of the site speed, internal server error etc etc.
I have never seen a group of sites that will load so slowly. Some time it takes 1 minute. So many time you will get "no data received error". Some time you will get internal server error. Some time the page just hangs.
Not only that Google dropes their pages from their index, due to poor site speed. I could not understand why they run this?? Do they think the writers are idiots?? and whatever they give the writers will take it?. Google gives very big importance to site speed and they consider it as a part of user experience. And what if their robots has to wait 2 minute to get data or even after that it receive an internal server error?. So it is very hard to get indexed in Google. (forget about first page, at-least just indexing)
So I request Triond Management to solve their problems before accepting more articles, because there are lot of better sites are there where we can submit our article. Here they are just wasting our time. I recommend you people to use revenue sharing article websites like squidoo and hubpages.
Adsense integration
Highlight: Ad-sense is a registered trade mark of Google. Looks like Triond is using that trade mark to cheat their users. I think it is illegal. I will explain you in detail below
The so called ad-sense integration is never worked for me. I have done adsense integration with weebly, hubpages etc before, but as far as triond, it never worked. Adsense integration with Triond, never worked for any body. Still they keep on sending email to writers to integrate our account with ad-sense. If you ask question about ad-sense integration, they never respond about it.
Some forum users say that. they lost ad-sense account, and they do not want to disclose that to public. I am also sure about it as they never shows ad-sense advertisements. But I have seen that they are putting chitika advertisements, instead of adsense. If somebody have an ad-sense then he will put that low paying chitika advertisements. That clearly indicate us they are not having ad-sense account
If they do not have ad-sense account and pretending as if they have ad-sense account then that is not a honest way to do business.
More Images
The Below image shows one of the screen image of their website. I am in Melbourne and I have 1 GiG fiber cable connected to my house (15 times faster than ADSL). All other website load in a click of a second. But triond member sites just shows internal server error or no data received error. Who is going to compensate for the lose of revenue due to their web server errors?
Remember most of the time we get paid either for CPM or CPC (Cost per click). If the page does not load advertisements also wont load and we are loosing revenue.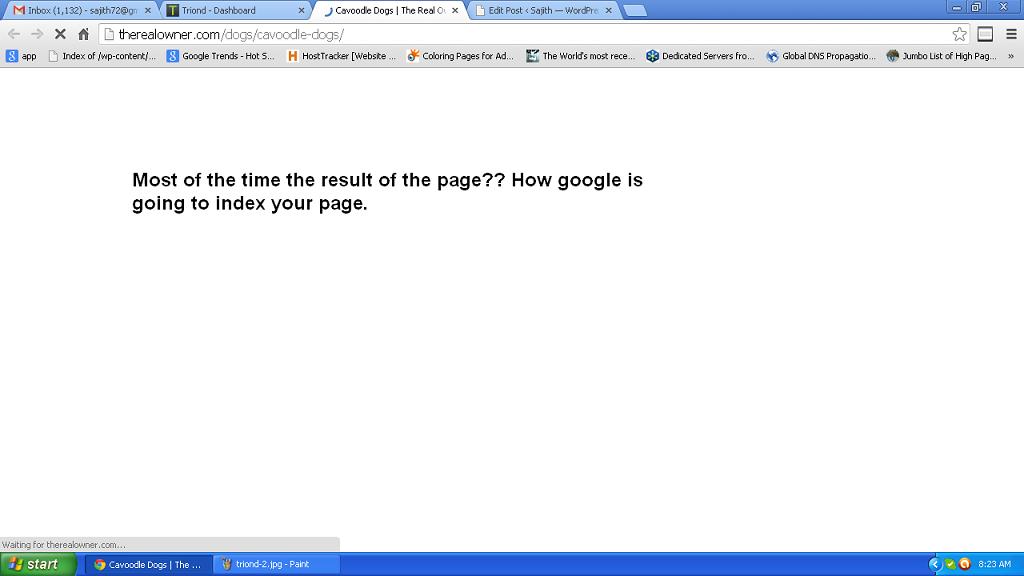 Tested with Google structured data tool
I have tested one URL with Google structured data tool. You can see the result below.
Web page is Not available Image
Some time I get the below image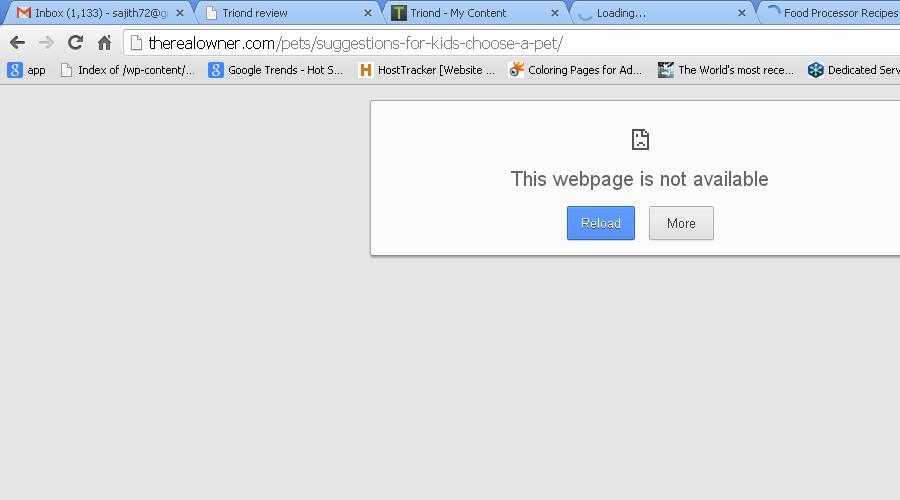 Customer Service Reply
I have bought their attention to this problem lot of time. Almost all the time I have got the following replies.
Is the problem still persistent?
We are aware of it and working on it.
Thanks for letting us know
Afterwards they stopped responding and started removing queries about this by marking as spam. I could not understand how a problem will become spam??
If you have some problem and you are unable to solve it, will you consider it as spam??